St. Petersburg court refuses to free ex-lawmaker convicted of bribery on parole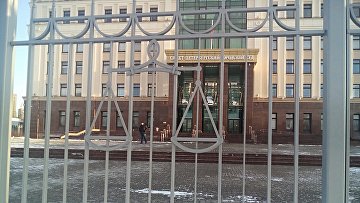 13:09 13/02/2019
ST. PETERSBURG, February 13 (RAPSI, Mikhail Telekhov) – The St. Petersburg City Court on Wednesday upheld a lower court's refusal to release ex-member of the city's Legislative Assembly Vyacheslav Notyag convicted of taking bribes on parole, the United press service of St. Petersburg courts told RAPSI.
The Smolninsky District Court of St. Petersburg denied parole to Notyag in October 2018.
Notyag received three years in a high-security prison and was fined one million rubles in January 2018.
Pursuant to case materials, in June 2015, Notyag demanded bribes worth no less than 300,000 rubles ($4,500) quarterly from businessman Oleg Glushchenko. In turn, the lawmaker promised not to hinder construction works the businessman's firm carried out in a city district. In such a manner, according to investigators, the defendant frequently accepted bribes totaling to at least 1 million rubles (about $15,000 at current exchange rate) over this period of time.
Officers of the Federal Security Service Directorate for St. Petersburg and Leningrad region arrested Notyag when the businessman gave him 600,000 rubles ($9,000).