Ex-accountant involved in Serebrennikov embezzlement case gives full confession in court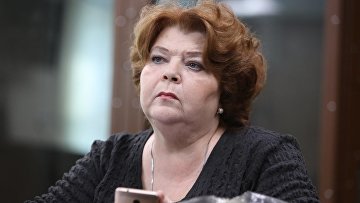 13:33 11/04/2019
MOSCOW, April 11 (RAPSI) - Ex-chief accountant of Seventh Studio stage company Nina Maslyayeva, a defendant in a multimillion embezzlement case involving the Gogol Center theater director Kirill Serebrennikov, pleaded guilty in full during a court hearing on Thursday, RAPSI reports from the Meshchansky District Court of Moscow.
Her case is being considered separately as she has signed a plea deal with investigators.
Maslyayeva confirmed that she was involved in monthly embezzlement and cash out of money at the direction of Serebrennikov, ex-Seventh Studio head Yury Itin and other defendants.
On April 8, the Moscow City Court overturned released Serebrennikov, Itin, ex-official of Russia's Culture Ministry and current director of the Russian Academic Youth Theater Sophia Apfelbaum, on travel restrictions. Ex-general producer Alexey Malobrodsky was earlier placed on travel restrictions.
Producer Yekaterina Voronova, has been put on the international wanted list and arrested in absentia as part of the case.
Serebrennikov was arrested in late August 2017 and then placed under house arrest. In early November, Moscow's Basmanny District Court seized assets belonging to Serebrennikov including apartment, car, and money in the amount of more than 360,000 rubles ($5,300), over €60,000, and $4,000.
Investigators believe that he was an organizer of the budget money embezzlement. He allegedly created Seventh Studio stage company to actualize Platforma project for promotion of art and called alleged accomplices into the organization. He pleaded not guilty.
According to investigation, the defendants have embezzled 133 million rubles ($2 million) of 214 million rubles ($3.2 million) allocated from the budget to Seventh Studio for promotion of Russian contemporary art.
Investigators claim that Itin, Malobrodsky, and Maslyayeva were falsifying data for the Platforma project's plans in 2011-2014 on the theater director's request. This data was provided to the Ministry of Culture as the rationale for financing from the state budget.
Apfelbaum, according to investigators, signed contracts on state grants in the amount of more than 214 million rubles with Serebrennikov's stage company on behalf of the Russian Culture Ministry, and provided further agreement of received reporting documents, which contained overstated information on quantity and cost of the held events, thus abetting the embezzlement.
Apfelbaum admitted that she controlled the movement of cash but denied involvement in the crime.
All the defendants have pleaded not guilty to embezzlement calling charges against them pointless and absurd. Moreover, Serebrennikov and Malobrodsky laid the blame on Maslyayeva.