Sentencing of police colonel Zakharchenko in bribery case set for June 10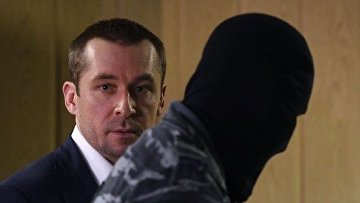 13:56 24/05/2019
MOSCOW, May 24 (RAPSI) – Moscow's Presnensky District Court will announce sentence for ex-Russian anti-corruption official, police colonel Dmitry Zakharchenko, who is charged with corruption crimes, on June 10, RAPSI has learnt in the court's press service.
In mid-May, a prosecutor demanded a 15.5-year prison term and a 494-million-ruble fine for Zakharchenko.
The prosecutor asked the court to pay attention to the high public danger of crimes Zakharchenko was accused of, qualifying them as "some of the most dangerous for public guilty acts, which may be committed by law enforcement officers".
Zakharchenko was arrested on September 8, 2016, on allegation of taking a 7-million-ruble (about $105,000) bribe. During searches at his sister's apartment law enforcement officers found around 9 billion rubles ($140 million). He denied any relation to the seized funds.
According to investigators, in 2014, Zakharchenko and his accomplice received $800,000 from a restaurant businessman. Initially, they demanded 5 million rubles ($75,000). In 2015, they allegedly demanded from that businessman a 50% discount card of his restaurants, and therefore the defendant saved over 3.5 million rubles during bill payment.
Moreover, investigators claim that in 2016, he warned a familiar woman about forthcoming searches as part of a fraud case and organized taking of all documents and office equipment out to prevent their seizure.
In late April, his father Viktor Zakharchenko received 4 years in prison and a 800,000-ruble ($12,500) fine for embezzlement.