Authorities to be responsible for public order at rallies – Russian Constitutional Court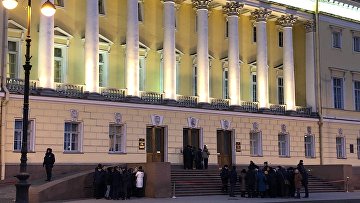 17:32 18/06/2019
ST. PETERSBURG, June 18 (RAPSI, Mikhail Telekhov) – The authorities shall not charge organizers of meetings with the duty to maintain public order in the course of mass events, a new judgement of the Constitutional Court of Russia reads on Tuesday.
According to the Court's press-service, the decision addresses the practice where the authorities return notices about rallies and meetings without consideration citing safety concerns. The issue has been analyzed basing on an application submitted by political activist from Irkutsk Valery Teterin, who asked the Court to test for constitutionality certain provisions of the Russian law on rallies.
Although the Court found these provisions to be in compliance with the Constitution, it nevertheless supported the applicant as concerned the safety of the events.
In its decision, the Court said that measures undertaken by the authorities in order to ensure the right of peaceful assembly should not result in excessive state control over organizers of such mass events and unwarranted restrictions thereon.
The organizers of rallies are to a certain degree responsible for the safety of participants and public order at the events, the Court's decision reads. However, the bulk of safety- and public order-related responsibilities is to be with the executive branches of regional authorities and local governments, their authorized representatives as well as representatives of law enforcement agencies; no such duties are to be assigned to the organizers of mass events in the course of consideration of respective notices by the authorities, according to the Court.
At the same time, Russia's Constitutional Court stressed that even in case an authority believed the proposed by organizers of mass events public safety measures were not in compliance with the provisions of the law on rallies, this circumstance could not be a ground permitting it to reject the respective notification without consideration. In such a case the authority should present to the organizers substantiated proposals aimed to ensure public order and safety and, if they were accepted by the organizers, not to prohibit the mass event, the document reads.
The Court pointed out that in the absence of agreement between the organizers and the authorities, the organizers should have the right to turn to courts in order to resolve the situation. The courts in turn were to objectively test the substantiation of the authorities' position in the shortest time possible.
Any other interpretation of the disputed provisions of the law, the Constitutional Court said, would have been contrary to the Constitution and the Court's legal position that the authorities were to make every possible effort to let planned mass events to take place in the localities and at the time chosen by the organizers instead of attempting to prohibit such events under some artificial pretext.
The Court also said that the applicant's case where he was refused to held a rally due to safety reasons was to be reconsidered.