Detention of Navalny for participation in unauthorized action upheld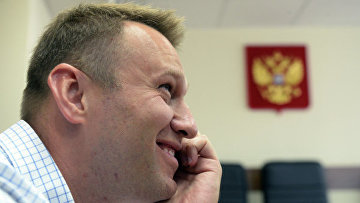 16:36 09/07/2019
MOSCOW, July 9 (RAPSI) – The Moscow City Court on Tuesday upheld the 10-day administrative detention of Russian opposition politician Alexey Navalny for repeated participation in an unauthorized action, a RAPSI correspondent reports from the courtroom.
Navalny was brought to administrative responsibility for participating in the unauthorized rally in the center of Moscow on June 12 to push back on the arrest of journalist Ivan Golunov, who was arrested and put under house arrest on suspicion of distributing drugs but later released.
Reportedly, more than 200 people were arrested and detained for violating the established procedure of organizing or holding a meeting, rally, demonstration, procession or picketing. Publicized documents compiled by the police says Navalny blocked the traffic and shouted slogans.
Navalny pleaded not guilty.
In court Navalny declared his right to participate in the rally, based on the decisions of the European Court of Human Rights in Strasbourg.
However, both the appellate court and the first instance, refused to terminate the proceedings on the administrative case against Navalny, as the defense requested.