Ex-president of Globex Bank to stay detained until mid-October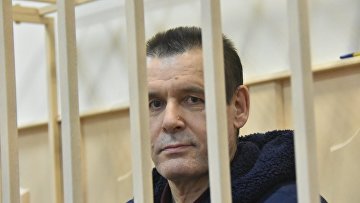 12:12 11/07/2019
MOSCOW, July 11 (RAPSI) – Moscow's Basmanny District Court has extended detention of ex-president of Globex Bank Vitaly Vavilin until October 13 as part of embezzlement case, RAPSI has learnt in the court's press office.
Investigators believe that Vavilin has used his job position to give an unrecoverable $15-million loan to a company controlled by businessmen, brothers Alexey and Dmitry Ananyev. The credit deal terms have been allegedly changed and debt obligations to Globex have been transferred to a foreign organization, which is yet to return the money.
Vavilin could face up to 10 years in prison if convicted.
Earlier, the former banker was questioned as a witness in several cases related to Globex Bank.
Established in 1992, Globex Bank is one of major Russian banks with most of its shares (99.9 percent) owned by the state-run Bank for Development and Foreign Economic Affairs.