Four men convicted of $1 mln Arctic shelf limit survey embezzlement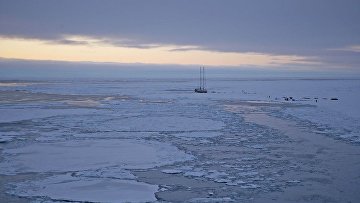 15:00 25/07/2019
ST. PETERSBURG, July 25 (RAPSI, Mikhail Telekhov) – The Leningrad District Military Court convicted four defendants of embezzling 70 million rubles ($1 million) allocated for surveying shelf limits in the Arctic Ocean, RAPSI learnt from the United press service of St. Petersburg courts on Thursday.
Chief of the Defense Ministry's navigation and oceanography department, first rank captain Sergey Travin was sentenced to 7 years behind bars and a 500,000-ruble fine (nearly $8,000). CEO of Prominvest company Boris Savelyev was given 6 years in penal colony and fined 400,000 rubles (over $6,000). Travin's subordinate Leonid Shalnov and deputy head of the 280 Central Cartography Production bureau Alexey Glazko received suspended terms and were fined 300,000 rubles each (about $5,000).
The trial was held behind closed doors as the case contained classified documents.
According to case papers, between June 2014 and April 2015, the defendants deceived employees of the Defense Ministry's structures and embezzled the money allocated through state contract for determining outer borders of Russian continental shelf in the Arctic Ocean.