Sentence of Nota-bank co-owner reduced by month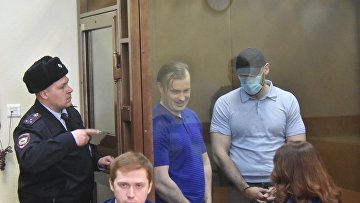 15:58 08/08/2019
MOSCOW, August 8 (RAPSI) – The Moscow City Court on Thursday reduced a 6-year prison sentence given to a co-owner of Nota-bank Vadim Yerokhin for embezzling over 2 billion rubles (about $31 million) from the bank depositors by a month, RAPSI reported from the courtroom.
However, the court upheld an 8.5-year jail sentence of his brother, another co-owner of the bank Dmitry Yerokhin.
In March, Moscow's Ostankinsky District Court convicted the co-owners of the bank. In addition to the prison terms, they were fined. Dmitry Yerokhin received a 2-million-ruble fine ($31,000), while his brother was fined 800,000 rubles.
The both men pleaded not guilty.
According to investigators, ex-board chairman of the bank Dmitry Yerokhin conspired with the director of the bank's financial analysis department Galina Marchukova, her sister Larisa and their friend Nonna Mikhay to steal entrusted 350 million rubles. They allegedly transferred the money to accounts of a sham firm they controlled.
Mikhay received 3.5 years in penal colony for incitement to commit the crime.
In May, a court sentenced Larisa Marchukova to 3 years and 3 months in prison and fined her 700,000 rubles. She was found guilty of aiding and abetting embezzlement. Galina Marchukova received 3 years and 4 months and a 700,000-ruble fine.
On July 22, the Moscow City Court on Monday recalculated sentence given to Larisa Marchukova in accordance with new rules and freed her from custody. On July 29, the sentence of Galina Marchukova was also recalculated, and she was released as well as her sister.
Nota-bank was declared bankrupt in January 2016. Examination of the bank by a temporary manager revealed evidence of deliberate bankruptcy of the financial organization. It was found out that in 2014-2015 direction of the bank manipulated its assets.