Volunteer of Russian social-liberal party detained in 27 July riots case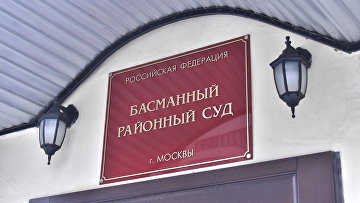 18:02 12/08/2019
MOSCOW, August 12 (RAPSI) – Moscow's Basmanny District Court on Monday ordered a volunteer of the Russian social-liberal party Yabloko Valery Kostenok to be detained until October 11 as part of the 27 July mass riots case, the court's press service told RAPSI.
Kostenok is charged with participation in the riots.
During the hearing a prosecutor asked the court to place the defendant under house arrest as he pleaded guilty.
Unauthorized rallies in support of candidates seeking to become lawmakers of the Moscow State Duma but refused registration by the Election Commission were held on July 27 and August 3 in central Moscow. Over 1,000 people were arrested for various violations as a result.
After the 27 July rally, the Investigative Committee opened a criminal case over mass riots. Investigators believe that the protest action was held with the use of force against representatives of authority.
Several opposition figures including Alexey Navalny, Dmitry Gudkov, Ilya Yashin were arrested and put in detention for alleged organization of an unauthorized rally.