Ex-Bolotnaya case defendant detained for 13 days for hooliganism at August 10 rally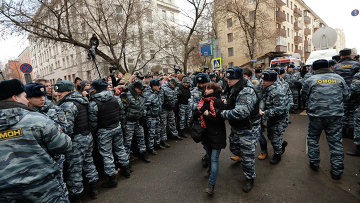 09:43 13/08/2019
MOSCOW, August 13 (RAPSI) – Moscow's Meshchansky District Court has held to place ex-defendant of the Bolotnaya Square riots case Alexey Polikhovich for hooliganism at the rally on August 10, RAPSI has learnt from the court's press service.
He has been detained for 13 days.
On August 10, an authorized action was held in central Moscow crowding about 20,000 participants, according to police. Polikhovich was arrested as he was using obscene language from a stage.
In February 2014, Polikhovich was sentenced to 3.5 years in prison for participation in the riots on the Bolotnaya Square on May 6, 2012. In October 2015, he was granted parole.
The march on Yakimanka Street and the rally on Bolotnaya Square in May 2012, both authorized by the officials, resulted in mass riots and clashes with the police. Dozens of people were injured, over 400 protesters were detained.
The riot organizers, Sergey Udaltsov and Leonid Razvozzhayev, were sentenced to 4.5 years in prison. Other participants received sentence ranging from suspended terms to four years in prison. Several defendants were pardoned; one is undergoing compulsory mental treatment.