Journalist Vyshinsky released from detention in Ukraine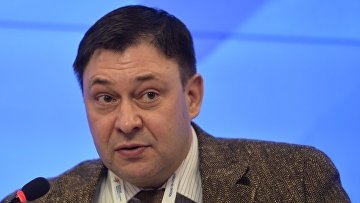 16:02 28/08/2019
MOSCOW, August 28 (RAPSI) – The editor-in-chief of RIA Novosti Ukraine news agency Vyshinsky having Ukrainian and Russian citizenship, arrested in Kiev on May 15, 2018 on suspicion of treason and placed in detention, has been released, the press-service of Russia's High Commissioner for Human Rights Tatiana Moskalkova.
The journalist's detention has been repeatedly extended. If convicted, he could face up to 15 years in prison.
Although no details are available at the moment, earlier it has been reported that Moskalkova arrived to Kiev; however, there were no comments about the visit.
The decision of a court in Kiev was fair and not politically motivated, Moskalkova has told RAPSI.
The High Commissioner congratulated Vyshinsky, his relatives, friends and all those helping his release with the development expressing hope that the further moves in the journalist's case were to be made on an unbiased basis.
Moskalkova earlier repeatedly requested international organizations including UN, Council of Europe and Organization for Security and Cooperation in Europe (OSCE) to speak in defense of the Russian journalist. According to the ombudsman, the case against Vyshinsky and his detention were illegal.
Russian President Vladimir Putin previously said that Vyshinsky was arrested and detained for his professional journalistic activities. He also called this policy of Ukrainian authorities unprecedented and inadmissible.