Zakharchenko's sentence for corruption reduced by 6 months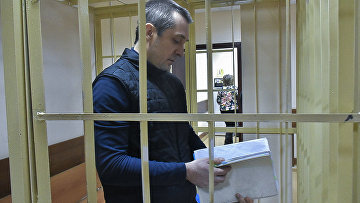 10:42 18/10/2019
MOSCOW, October 18 (RAPSI) – The Moscow City Court has reduced a 13-year high-security prison sentence given to ex-police colonel Dmitry Zakharchenko for corruption by 6 months, according to a RAPSI correspondent.
The court has excluded a charge qualifying pattern saying that the crime had been collusive.
The sentence has become effective.
In June, Moscow's Presnensky District Court sentenced Zakharchenko to 13 years in high-security prison for corruption crimes. Additionally, the defendant was ordered to pay a 117-million-ruble fine ($1.8 million), stripped of his police colonel rank and prohibited from holding law enforcement posts for 2 years.
The court found Zakharchenko guilty of two counts of corruption charges.
However, the court acquitted him of a $800,000 bribery count. The court held that these charges against the defendant were not proven. Investigators claimed that in 2014 Zakharchenko and his accomplice initiated audit of restaurant business. The check was completed when Zakharchenko received $800,000 from a businessman, they insisted.
Moreover, investigators claim that in 2016, he warned a familiar woman about forthcoming searches as part of a fraud case and organized taking of all documents and office equipment out to prevent their seizure.
Ex-Russian anti-corruption official was arrested on September 8, 2016. During searches at his sister's apartment law enforcement officers found around 9 billion rubles ($140 million). He denied any relation to the seized funds.