Titov sends President list of entrepreneurs wrongly accused of organizing criminal gangs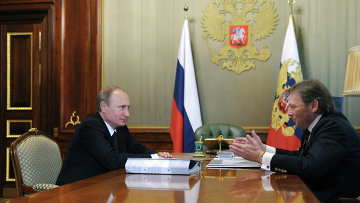 15:32 02/12/2019
MOSCOW, December 2 (RAPSI) – Business ombudsman Boris Titov has presented to Russia's President Vladimir Putin a list of entrepreneurs detained on "unfounded allegations" of setting organized criminal societies, the business rights commissioner's press-service reports on Monday.
Titov asks the President to order an inspection of the lawfulness and reasonableness of bringing a number of businesspersons to criminal liability under an article of the Russian Criminal Code on organization of criminal societies or participation therein, as well as their detention.
Investigative agencies continue to improperly bring additional charges, determining actions undertaken in the sphere of business activities as the crime under the above article of the Criminal Code. Citing no grounds defined by the legislation, at the end of an investigation, when there are doubts that courts are to find entrepreneurs guilty of fraud, investigators bring additional charges of committing this especially serious crime with the aim to strengthen psychological pressure on defendants in order to obtain witness statements the investigation needs or to achieve other unlawful tasks, Titov observes.
According to the business rights commissioner, investigators deem interconnections resulting from normal operations of commercial organizations as evidence of this crime, although they are meeting the criteria of organization and structuring set forth in the definition of the crime only formally. Bringing these additional charges, Titov notes, investigators justify non-application of another article of the Criminal Code limiting detention of businesspersons.
The business ombudsman concluded by saying that when entrepreneurs are found guilty of committing this crime, they are sentenced to stricter prison conditions and longer terms. Excessive and unfounded nature of these additional charges, he believes, is seen from the case law, as courts often acquit entrepreneurs of these charges in their final judgements.