Ex-Moscow Region Finance Minister to be imprisoned for 14 years for $220 mln embezzlement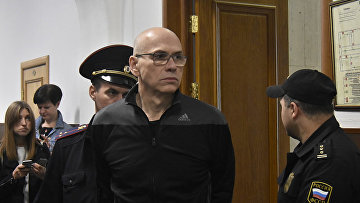 14:25 16/12/2019
MOSCOW, December 16 (RAPSI) – The Basmanny District Court of Moscow on Monday sentenced the former Finance Minister of the Moscow Region Alexey Kuznetsov to 14 years in penal colony for embezzlement of 14 billion rubles (about $220 million), RAPSI reports from the courtroom.
Moreover, the court ordered that over 14 billion rubles be recovered from the defendant upon civil claims filed by victims in the case.
In November, the prosecution demanded a 14-year prison term, a 1-million-ruble fine ($15,500 at the present exchange rate) and ban on holding government posts for 3 years for Kuznetsov.
Elena Volkova, the public prosecutor in the case, noted that Kuznetsov was to be entered in the annals of the Russian criminalistics as a person, who just in three years could bankrupt the budget of the whole region. She also alleged that Kuznetsov had committed the crimes he stands charged with in conspiracy with his ex-wife Janna Bullock, a US citizen, who in January 2018 was sentenced to 11 years in prison in absentia for embezzlement after she had fled from justice; Volkova believed this circumstance was important for the outcome of the ex-official's case.
The prosecution alleges that Bullock and Kuznetsov used the funds they had embezzled to purchase luxury articles, real estate in the USA and to invest in a French resort hotel, whereas the guilt to the defendant had been completely proven in the course of the lawsuit.
This August, the Basmanny District Court of Moscow ruled the case was to be considered in a prescribed standard manner despite Kuznetsov's plea of guilty. At that time the prosecutor argued that criminal actions by Kuznetsov had resulted in serious violations of rights of the society and the state and led to a 14-billion-ruble damage; and the accused had hidden abroad for a long time.
In late July, the former official pleaded guilty. Therefore, his case was to be considered under a special procedure without examining evidence.
Earlier, the court dismissed a defense motion to drop 14 charge counts against ex-Finance Minister of the Moscow Region. Kuznetsov stands charged with embezzlement, money laundering and fraud.
The former official, who fled abroad in 2010, was extradited from France to Russia in January 2019.
According to investigators, from 2005 to 2008, a group organized by Kuznetsov unlawfully obtained the right to recover debts of enterprises operating in the housing and utilities sector of the Moscow Region and embezzled funds of the Moscow Regional Investment Trust Company.
Other defendants in the case have been already convicted and sentenced. Ex-deputy finance minister of the Moscow Region Valery Nosov has received 14 years and 9 months behind bars. Ex-CEO of the Moscow regional government's Moscow Regional Trust Company Vyacheslav Telepnyov has been given 10 years in prison.