Russian ombudsman Moskalkova protects rights of convicted Israeli Naama Issachar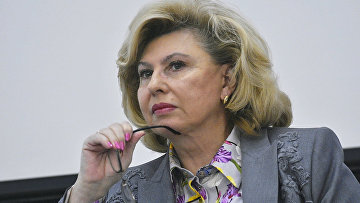 13:00 23/01/2020
MOSCOW, January 23 (RAPSI) – The warden of a penal colony in the Moscow Region, where Israeli citizen Naama Issachar convicted of trafficking and possession of drugs serves her 7.5-year term, has been reprimanded for unlawfully denying her visitations of her mother, Russia's High Commissioner for Human Rights Tatiana Moskalkova informs on Thursday.
According to Moskalkova, last year first deputy mayor of the town of Ashkelon in Israel asked her to protect Issachar's rights; the ombudsman promised to sort out the situation.
The rights commissioner petitioned the Moscow Region Prosecutor's Office to look into the case; at the same time she asked her colleague, the ombudsman of the Moscow Region Ekaterina Semenova, to visit the young woman and inspect the conditions of Issachar's detention.
Although the Israeli did not complain about the detention conditions, could meet representatives of consular offices, and regularly used email for communication, it was revealed that she had been several times unlawfully denied visitations of her mother, according to a Moskalkova's post on a social network.
Taking into account the fact that Issachar is far from her home, family members and friends in an alien country, the ombudsman writes, such actions on the part of officials are in her view inadmissible. The warden of the penal colony has been reprimanded for this, and Moskalkova believes no more such violations occur in the future. A convicted person serving his or her term nevertheless has the rights, including that to meet his or her relatives and dear ones, whereas the society is to care that convicts' rights are respected, Moskalkova writes.