Probusinessbank's $32.6 mln claim against ex-CEO of collector agency put on hold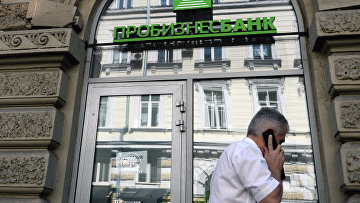 11:26 24/01/2020
MOSCOW, January 24 (RAPSI) – The Moscow Commercial Court has left without action an application lodged by Russia's Probusinessbank seeking to collect over 2 billion rubles (about $32.5 million) from ex-CEO of Life collector agency Sergey Kalachev sentenced earlier to 6.5 years in prison for embezzlement of the bank's funds, according to court records.
The claim has been put on hold until February 14.
Yet in October 2015, the Moscow Commercial Court declared Probusinessbank, the leading financial structure of the Life Group, bankrupt, thus satisfying a claim of Russia's Central Bank.
In February 2016, a court ruled to detain several Probusinessbank ex-top managers charged with embezzlement of about 2.5 billion rubles (circa $41 million) owned by the bank's clients, among them former vice-president of business development of the bank Vyacheslav Kazantsev, Sergey Kalachev, Nikolay Alekseyev, Marina Krylova, and entrepreneur Oksana Kravchenko.
In April 2017, a court sentenced ex-head of corporate finances department of Probusinessbank Nikolay Alekseyev to 4 years in prison in relation to the case. His case was reviewed separately because he had admitted his guilt.
According to investigators, the defendants conspired to embezzle funds belonging to Probusinessbank. Accomplices are believed to be unidentified managers and employees of the bank. They allegedly used their office positions to enroll their subordinates, employees of the financial group Life, and heads of sham companies.
As a result, Russia's Investigative Committee said, fly-by-night companies had been given clearly unrecoverable loans, which were later converted in U.S. dollars and transferred abroad. Although such loans were formally proper, the Committee noted, the documents contained false data.
In 2019, Kazantsev was sentenced to 7 years in a penal colony and fined 800,000 rubles ($13,000); Kalachev was sent behind bars for 6.5 years; ex-head of a bank department Kyrill Artemov was sentenced to 5 years in a penal colony.
Russia's Deposit Insurance Agency (DIA) informed in March 2017 that inspection of Probusinessbank assets revealed a 68.5 billion rubles (about $1 billion) shortfall, which DIA sought to recover from the bank's ex-managers.
According to the DIA, the bank's bankruptcy examination revealed that Probusinessbank top managers funneled fluid assets out of the organization by lending companies, which did not carry on business consistent with credit levels and did not have their own property and corresponding incomes. Moreover, the bank management did not take measures to prevent the financial organization's bankruptcy.