Russia's Ombudsman to apply to U.S. authorities for protection of Russian national rights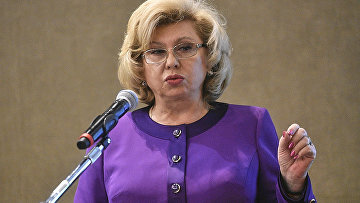 14:28 19/05/2020
MOSCOW, May 19 (RAPSI) – Russia's Human Rights Commissioner Tatiana Moskalkova is ready to turn to the U.S. government and international organizations seeking to ensure that the rights of Russian citizen Oleg Nikitin are to be respected.
Moskalkova calls her colleagues to attract attention to an egregious case of cruel and inhuman treatment of a Russian citizen, violation of international law, as well as the principles of humanity and fairness.
The Russian national, a successful businessman in the sphere of sugar production and a philanthropist over the course of 23 years, who is the sole support of his family, has been imprisoned in a U.S. jail for more than 8 months, the Rights Commissioner says, on absurd charges of espionage and attempted evasion of sanctions, mentioning that she has been shocked and outraged by the information on Nikitin's prison conditions provided by his wife during their personal meeting.
According to the Ombudsman, Nikitin suffers from several deceases and needs regular use of certain medicine, nevertheless, the temperature in his cell makes only 10 centigrade, and only because of the massive effort on the part of Russia's Foreign Ministry he was transferred to a cell without rats.
Moreover, representatives of the Russian consular office could meet Nikitin only 6 months after he was jailed because of the barriers created by the U.S. authorities, Moskalkova notes.
Earlier, Moskalkova requested the U.S. prison official to provide required medical aid to the Russian citizen and to inform her about the measures taken.
Nikitin and several other defendants could face up to 20 years in jail and a $1 million fine if convicted of violating the International Emergency Economic Powers Enhancement Act and the Export Control Reform Act of 2018; and up to 5 years in jail and a $250,000 fine if found guilty of conspiracy to defraud the United States.