Defense lawyers of actor Efremov run to investigators and prosecutors over threats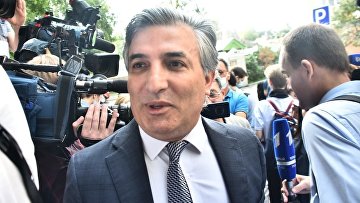 13:04 25/08/2020
MOSCOW, August 25 (RAPSI) – Defense team of actor Efremov involved in a fatal road traffic accident complained of threats and pressure from unidentified persons to Russia's Investigative Committee and Prosecutor General's Office, attorney Elman Pashayev told RAPSI on Tuesday.
The lawyer said that he received threats and demands to go out of the case.
Last week, Efremov waived the lawyer during the trial but later signed a new agreement with Pashayev.
The victims' lawyer Alexander Dobrovinsky believes that the defendant and his defense play a delaying tactics game.
The next hearing is scheduled for August 31.
Efremov stands charged with committing a traffic offense in a drunken state that led to a victim's death. He could face from 5 to 12 years behind bars if convicted. The actor pleads not guilty; he insists his memory is blank on the subject.
On the evening of June 8, Efremov driving his car crossed into the oncoming lane in central Moscow and collided with a delivery service vehicle. He was arrested on the scene. Alcohol and drugs were reportedly found in his blood. Victim Sergey Zakharov was taken to hospital where he died early in the morning of June 9.
On June 9, Moscow's Tagansky District Court ordered Efremov to be put under house arrest; the measure is still in force. In particular, he was banned from communicating with other case parties, using mobile phone and Internet.