Bill to prevent conflict of interest in government submitted to parliament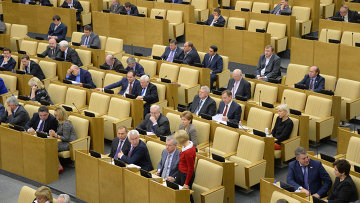 10:54 07/03/2014
MOSCOW, March 7 (RAPSI) – In the government's latest effort to curb official corruption, it has submitted amendments to the State Duma that would strengthen Russia's current law on official conflicts of interest, the cabinet said on its website Friday.
The bills will set out measures to prevent or resolve the conflicts of interest in which federal and regional officials are involved, says an explanatory note to the package.
The Labor Ministry has drafted the bills to amend a number of laws and to introduce a common definition of the term "conflict of interest." According to the explanatory note, a civil servant's vested interest in a project will be considered a reason for the Board of the Presidential Council for Countering Corruption to convene a meeting to discuss the said official's compliance with the requirements.
An analysis of state agencies made by the Labor Ministry in February has shown that over the past two years 8,500 Russian officials have violated anti-corruption legislation.
Chief Investigator Alkesandr Bastrykyn said in late February that the number of corruption cases opened by the Investigative Committee in 2013 grew 30%. According to Bastrykyn, last year, investigators received more than 45,000 complaints about instances of corruption. 28,000 criminal cases were initiated, which is 10,000 more than in 2012.
In 2013 , over 1,600 Russian lawmakers and heads of local government bodies have been indicted for corruption over the past two years, according to Chief Investigator Bastrykin. Corruption-related offenses caused the state about nine billion rubles' worth of damages during this period.
Russia was rated 133 out of 178 countries by international watchdog Transparency International in 2012, and corruption remains endemic, despite a government-led campaign to wipe it out.