Russia's ex-Finance Minister critisizes judicial reform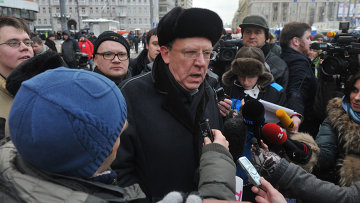 14:55 02/02/2012
MOSCOW, February 2 - RAPSI. Former Finance Minister Alexei Kudrin, who retired after a disagreement with President Dmitry Medvedev, said the authorities have failed to improve the judicial system.
He mentioned as an example the unreasonable upsurge in tariffs at the municipal level. He stressed that problems are not resolved in court, but rather by the higher authorities.
"A very coarse system of regulation from above is being adopted. It is even worse because it ignores specific conditions and costs. We would not have to appeal to a higher level of authority each time with a judicial system where the responsibilities of authorities were exactly allocated and parties were strictly brought to responsibility," he said.
Commenting on the case of former YUKOS CEO Mikhail Khodorkovsky, Kudrin said similar decisions in such precedent-setting cases would have helped to improve the judicial system.
The YUKOS case has been one of the most high profile in Russia in recent years. In the early 2000s, the authorities accused the executives of YUKOS, then the country's largest oil company, of embezzlement and tax evasion. In 2005, the court sentenced Khorkovsky and his co-defendant, former Menatep head Platon Lebedev, to eight years in prison. Many in the West believe the case against YUKOS was politically driven, but Moscow flatly denies the charges.
Almost all of the presidential candidates have spoken on this subject in the run-up to the March elections. The only self-nominated candidate, Mikhail Prokhorov, said his first decision as head of the state would be to pardon Khodorkovsky. He also said he sees Kudrin or Khodorkovsky as the prime minister if he wins.