Presidential elections expose gaps in Russian legislation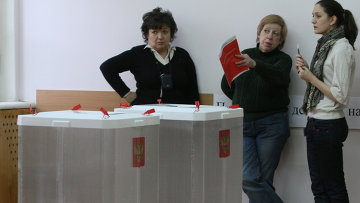 11:14 13/03/2012
MOSCOW, March 13 - RAPSI. The violations allegedly committed during the presidential elections became possible due to a gap in the legislations, Lyudmila Sinelschikova, a member of the Moscow City Election Commission, told the Vedomosti newspaper.
She believes that the law does not duly regulate the procedure of including voters in the voters' lists at their actual place of residence. This was not so obvious before the March 4 presidential elections taking into account the nature of detected violations, Sinelschikova said.
Eventually, hard-to-control voting techniques have been widely used.
In particular, 23 temporary polling stations were not included in the reference system in Moscow only. The observers discovered them by accident.
Meanwhile Alexander Lebedev, the representative of A Just Russia party, challenged the results of the presidential elections in the Supreme Court.
Lebedev claims that more than 237,000 ballots came out of nowhere during the elections.
He also maintains his calculations are based on the official information, including the information of the Central Election Commission.
According to him, the election results must be nullified in a number of regions where violations were committed.
Lebedev himself has called the perspectives of his lawsuit foggy.