Political parties to disclose funding sources and expenses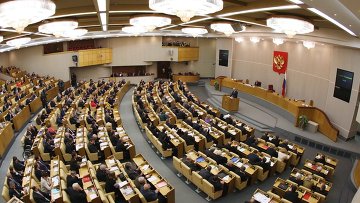 10:36 27/08/2012
MOSCOW, August 27 - RAPSI. According to Izvestia daily, the ruling United Russia party is contemplating amending the law on political parties in order to require both old and newly registered political parties to disclose their sources of funding and operating expenses.
Every year parties will have to publish their financial statements on their website, according the newspaper.
The Central Election Commission and the Federal Tax Service would be responsible for verifying parties' income and expenses.
Currently parties must publish their election costs, but their financial donors and expenses are treated as confidential.
"There is nothing tricky in making parties publish their financial reports. Only organizations with dubious finances need to be afraid of it," Liberal-Democratic lawmaker Yaroslav Nilov believes.
Meanwhile, opposition party members are divided on this issue.
Co-chairman of the Republican Party of Russia - People's Freedom Party Boris Nemtsov has stated that his party has no apprehensions in regard to the new legislative amendments.
However, Chairman of the Russian All-People's Union Sergei Baburin has called the current parliament's lower house illegitimate and the new idea a "crafty scheme against the opposition."