Duma pushes through law on defense contracts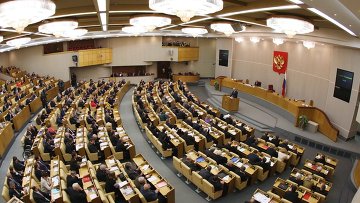 17:14 13/09/2012
MOSCOW, September 13 - RAPSI. The State Duma plans to consider the second reading of a bill on seeking tenders for state defense goods and services in October; the third reading is expected to be held in November, Head of the State Duma's defense committee Vladimir Komoyedov said.
The second reading of the bill will introduce new terms, including, "state armament program," "acquisition program," "complex contract plan," and "sole contractor." The definitions of terms, that were already included in the bill, such as "main state defense procurement's rates," "state customer," and "primary executor" were specified, the committee's head said.
Requirements for credit and insurance companies that work with defense contracts are expected to be set. Issues of monitoring, control and audits will also be settled legislatively. Additionally, new standards that define liabilities for violating laws on state defense procurements will be enacted, he said.
The law will introduce competitive negotiations. According to the deputy, this will be part of the process to be awarded a defense contract. The commission for holding the negotiations will conduct them with pre-qualified participants; during the negotiations they will provide the commission with their final offers. The participant who offers the best terms for fulfilling a state contract will be awarded the contract. "Competitive negotiations will be held with no fewer than two participants to ensure an efficient competition," he said.
Consolidating this approach on the legislative level will create a legal basis for the direct participation of integrated organizations when placing and fulfilling defense orders; it will improve the selection of the best proposals based on the criteria, "efficiency (quality) - value - feasibility," as well as the best proposals in terms of cost, quality and terms, the committee's head said.