Medvedev supports criminal liability for recurrent drunk driving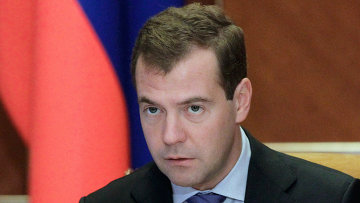 16:45 05/10/2012
GORKI, October 5 - RAPSI. Prime Minister Dmitry Medvedev has supported the adoption of criminal liability for recurrent drunk driving for individuals who were earlier deprived of their driver's license for the same offense.
State Duma Committee on Security and Combating Corruption head Irina Yarovaya said driving license forfeiture today "does not work due to the absence of a law enforcement mechanism in this respect."
"Let us create this mechanism," Medvedev said at the meeting on traffic safety. At an earlier meeting with his deputies, the prime minister said liability must increase amid the recent horrific car accidents in the country that occurred as a result of drunk driving.
A drunk driver rammed into a bus stop in Moscow on Saturday, killing seven people, including five orphans.
Medvedev said liability in such cases should be higher.