Bill to control expenses of officials to be considered in October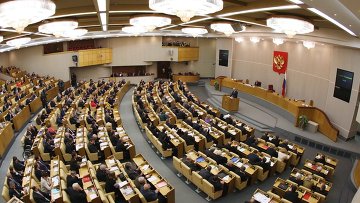 17:31 15/10/2012
MOSCOW, October 15 - RAPSI. The second reading of a bill to introduce control over officials' income and expenses will be held on Thursday, according to the State Duma Council. The bill is expected to be passed in October, the State Duma Security and Anti-Corruption Committee told RIA Novosti.
Then-President, now Prime Minister Dmitry Medvedev submitted the bill in March. He asked deputies to consider the bill on a priority basis as part of the anti-corruption legislation package.
The bill passed the first reading in June.
He voiced the idea to control officials' incomes and expenses during his address to the Federal Assembly in December. The bill aims to spot discrepancies between their revenues and expenses, as officials have been obliged to declare their income for past three years.
Under the new law, civil servants will also have to report their own income and expenses, as well as the income and expenses of their spouses and underage children.