Bill on organ transplants may be submitted to State Duma in 2013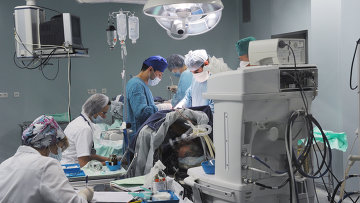 15:14 05/12/2012
MOSCOW, December 5 - RAPSI. The Healthcare Ministry's bill on organ transplants, which envisages the establishment of a database of Russians where they will be able to express their will to donate their organs after death, might be submitted to the State Duma for consideration next year, Deputy Healthcare Minister Sergei Velmyaykin said on Wednesday.
The bill will allow posthumous child donorship as well. The law "On the Transplantation of Organs and Tissues" is presently in effect. It was adopted in 1992.
It stipulates that if medical employees are not aware at the time of an individual's death whether that person wished to become an organ donor, he becomes one automatically if his relatives agree.
The provision will remain part of the new law.
Velmyaykin said the document has been drafted by the ministry.
"However, we need to agree it with the interested ministries and agencies. The document concerns serious issues that need to be discussed. We will not speed up the process for the sake of it," he said.
He added that the bill envisages the introduction of the presumption of a citizen's agreement to provide an organ transplant if that individual has not directly precluded such an option.