Cuba abolishes the exit visa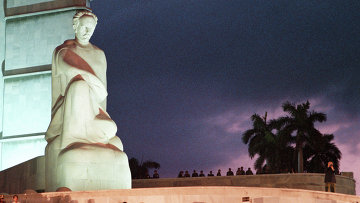 13:52 14/01/2013
HAVANA, January 14 - RAPSI. A law abolishing exit visas in Cuba came into effect on Monday, according to local media reports.
For the first time since 1961, Cubans will be able to leave the country without the special permission from the government or an invitation from the host country.
Previously, individuals were required to pay fees amounting to approximately $300 to obtain an exit visa, which is 15 times higher than the official average monthly salary in the country.
Tens of thousands of medical workers were not permitted to leave the country, while specialists with higher education had to seek permission for any trips with the relevant ministries.
Now an adult Cuban only needs to have a valid passport, a plane ticket and the visa of the host country, if required.
There are still travel limitations on famous athletes, individuals in possession of state secrets, those under investigation, or those who hold professions deemed to be of state importance.
Pursuant to amendments to a 1976 immigration law, the maximum term Cubans can stay abroad without having their personal property in Cuba confiscated and losing their right to free treatment and education will be extended from one to two years.
Cuban authorities have also simplified the temporary re-entry of individuals who illegally left Cuba after 1994 when migration agreements with the United States were signed.
Additionally, those who left the country before the age of 16 will be able to return to the country in order to care for elderly or infirm relatives.