Russian lawmakers propose fines for swearing in the media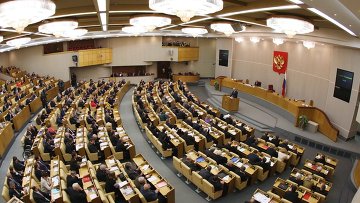 16:49 14/01/2013
MOSCOW, January 14 - RAPSI. The State Duma Committee on Constitutional Legislation and State Construction has recommended that the Duma approve in the first reading a bill stipulating large fines for bad language in the media, Duma Vice Speaker Sergei Zheleznyak, a co-author of the amendments, told journalists on Monday.
The amendments will be reviewed on January 18.
A group of United Russia lawmakers submitted the amendments to the Code of Administrative Offenses to the Duma for consideration. The amendments provide for a fine of up to 200,000 rubles ($6,610).
Zheleznyak said citizens across the country have submitted applications seeking to prevent the use of vulgar language on TV and in print media.
He noted that the current legislation only stipulates administrative liability for using vulgar language in public places and in media materials designed for children and teenagers.
"But we believe dirty language should not be used in any media, and this is why we have proposed introducing a ban on using vulgar language and imposing liability on all media for doing so," he said.
The fine for citizens has been proposed to be set at 2,000-3,000 rubles ($66-$99), 5,000-20,000 rubles ($165-$661) for officials, and 20,000-200,000 rubles ($661-$6,610) for legal entities.