Russian senators approve law on professional associations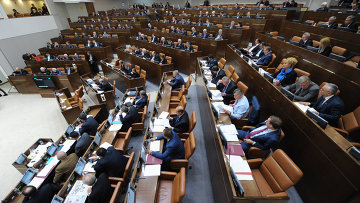 14:43 06/02/2013
MOSCOW, February 6 - RAPSI. On Wednesday, the Federation Council, the upper house of Russia's parliament, approved amendments to the Civil Code and the Law on Non-Governmental Organizations (NGO), which will allow individuals as well as organizations to establish associations for the protection of their professional interests.
The current legislation only allows legal entities to establish associations and unions.
In accordance with the amendments, an association (union) is defined as an organization of five or more legal entities and/or individuals established through voluntary or, in cases approved by law, mandatory association to protect common interests, including professional interests, for the pursuit of goals of public importance and other non-commercial aims that do not contravene the law.
This association (union) must be non-governmental organization. These associations must be established to coordinate business operations and to represent and protect common property interests. They must be the owners of their property.
The associations (unions) shall be liable for their obligations with their property, unless otherwise stipulated by law, but shall not be liable for their members.
The sponsors of this bill believe that these amendments will help exercise citizens' constitutional right to establish associations and will have a positive impact on the development of civil society institutions in Russia.