Bill banning convicted foreigners from working in Russia submitted to Duma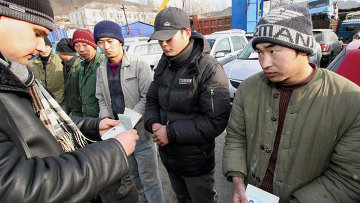 14:50 31/10/2013
MOSCOW, October 31 (RAPSI) - A group of lawmakers from the United Russia party submitted to the State Duma a draft law proposing the cancellation of work permits issued to foreigners convicted of crimes of any sort, RIA Novosti reported Thursday.
This bill also stipulates a ban on the reissue of the work permits for such immigrants, according to Igor Igoshin, one of the authors of the initiative.
At present, only foreigners that have committed heavy and especially grave crimes are banned from working in Russia.
Economic growth driven by revenues from oil exports and a dwindling domestic labor force have attracted millions of labor migrants, many of them the former Soviet republics of Central Asia. Some 11.3 million foreigners entered Russia this year, of whom 3 million work illegally, the Federal Migration Service announced in late July.
Igoshin stressed that the migration problem is a thorny issue in Russia.
Russia's anti-migration sentiment reached a climax this summer when an incident at an open-air market in Moscow left a police officer with a broken skull. A police officer was beaten up when he tried to arrest a 25-year-old Dagestani native wanted on suspicion of trying to rape an under-aged girl.
Another incident occurred earlier this month with anti-migrant riots that targeted a vegetable warehouse in the city's south. Violence erupted after protests over the fatal stabbing of a 25-year-old. Hundreds of people were detained by police. Around 70 people have been charged to date with minor administrative offenses.