Experts speculate on the role of English law in Russia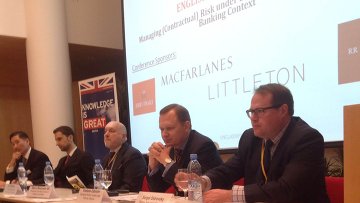 20:12 19/11/2013
MOSCOW, November 19 (RAPSI) - English Law Week got underway at the British Embassy in Moscow Tuesday, with a number of renowned experts on-hand to discuss the advantages and disadvantages of the dominance of English law as the preferred jurisdiction in cross-border transactions.
Yuri Pilipenko, First Vice President of the Federal Chamber of Lawyers of the Russian Federation, launched the conference with a few words on the role of English law in Russia. He explained that business in many countries around the world prefer the jurisdiction of Great Britain.
Contemplating the motives underlying the choice by Russian businesses to turn to the English courts, Pilipenko described a number of potentially contributing factors.
He explained, "It is the search for justice, that may be lacking in our judicial system. It is this search for justice that drives many businessmen to seek out English jurisdiction. This is one reason. Another reason, from my point of view, is that the English law allows the parties to draft deals at their discretion without any imperative forms which might – during court proceedings – disrupt all the agreements or intentions these parties vowed to implement. That's the advantage of the English jurisdiction."
Introducing the morning's first session on M&A transactions, Managing Partner of Capital Legal Services LLC Vladislav Zabrodin noted that English law is among the most broadly used in the international community, noting in light of its flexibility, practicality, and adaptability to business needs – this trend is likely to stick around for a while.
He stressed the imperative of being able to learn from one another: "I think that in case we are able to adopt instruments and mechanisms that are used in the English law, it will be quite interesting for us to see what business may think about this and how it will react to this."
After Zabrodin's introduction, several experts spoke on the issues of General Principles of Acquisitions under English Law, and on the general principles of shareholders' agreements and joint ventures.
Two of the presenters touched on the hypothetical case of a sale purchase agreement being written on a napkin in a London hotel. Bloomberg reported in 2008 that a lawsuit between Russian oligarchs Oleg Deripaska and Michael Cherney centered on an agreement that the men had penned on a napkin in a London hotel in 2001.
Among the presenters on the first panel of the day was Sergei Ostrovsky, a corporate partner with Ashurst LLP in London, who spoke on the general principals of acquisitions under English law. Speaking of the diversity of forms that Sale Purchase Agreements can take, Ostrovsky noted that even if the terms of an agreement were written on a napkin in an expensive London hotel, it could theoretically be enforceable if the parties agree that that is the deal between them, and they want to carry out the terms of the agreement on the napkin.
Nikolai Lazarev of 3PB Barristers presented next on shareholders agreements and joint ventures. On the topic of party autonomy, he quipped: "In fact, under English law, you don't even have to have a napkin. You could just sit in the hotel bar, talk to your partner, agree on things verbally, shake hands, and just walk your separate ways. That would be enforced. Under English law, oral agreements are enforceable."
Among the conference's attendees was Paul Marmor, Partner and Head of Dispute Resolution and Commercial Litigation at the London-based Sherrards Solicitors. Marmor explained to RAPSI that the legal markets in England and other European countries are waking up to the realization that there is a great deal of potential in the Russian and CIS legal markets.
He explained when speaking to RAPSI: "What we know is that among Russian and CIS companies and law firms – when they're in a multi-jurisdictional transaction, the one law that they will look to, and most people will respect and agree to follow for transaction is English law, which for the moment works out very well for the English law firms."
Marmor speculated that a lack of trust in the judicial system may drive Russian and CIS clients to the English courts.
English Law Week 2013, which is focusing this year on managing risk under English law, in an M&A and banking context, will continue Wednesday with an emphasis on dispute resolution.
Maura McGowan, Chairman for the Bar Council of England and Wales, expressed optimism when speaking to RAPSI about the potential of the conference to foster stronger ties between the English and Russian legal communities, saying: "I'm absolutely delighted to be here on English Law Week in Moscow. It's the fourth time we've all met together – second time in Russia. We've had two in London already. It's a great way of having lawyers work together, learn from one another, discuss their problems, find solutions, and hopefully work together in the future."
Nicholas Fluck, President of the Law Society of England and Wales, commented earlier upon RAPSI's request: "The UK is a major exporter of legal services and English law is the law of choice for business in so many different jurisdictions. Holding English Law Week in Moscow is an opportunity for us to showcase the skills and expertise of our members in one of the key international legal markets, and to help them build even more links with key stakeholders in the region."