Russian communists call for death penalty for terrorists – report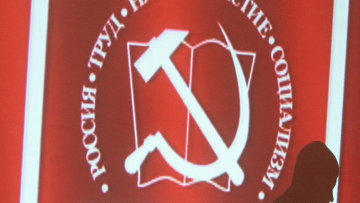 12:32 04/02/2014
MOSCOW, February 4 (RAPSI) – The Communist Party proposes introducing capital punishment for terrorists, a party official told Izvestia newspaper.
In mid-January, the four parties in parliament submitted a draft law to toughen punishment not only for terrorists but also for the founders and members of terrorist organizations and organizers and financiers of terrorist attacks, for training terrorists, hostage-taking, and for hijacking planes, sea and river vessels and trains. The bill proposes introducing life sentences and canceling the statute of limitations for these crimes (currently, the longest sentence is 20 years).
According to Vadim Solovyov, senior lawyer at the Communist Party's Central Committee, his party believes that life imprisonment is not a sufficient punishment for terrorism and for aiding and abetting, or for hijacking planes and hostage-taking. The Communist Party has therefore prepared amendments to the draft law.
The Russian Constitutional Court ruled in 2009 that Russia cannot use capital punishment because it is a signatory to Protocol No. 6 to the Convention for the Protection of Human Rights and Fundamental Freedoms concerning the abolition of the death penalty, despite the fact that Russia has not ratified the document and that there are provisions for capital punishment in the national legislation.
Until Russia ratifies the protocol, it must comply with the Vienna Convention on the Law of Treaties that grants primacy to international law over domestic law.