Human rights activists criticize bill on mandatory registration of NGOs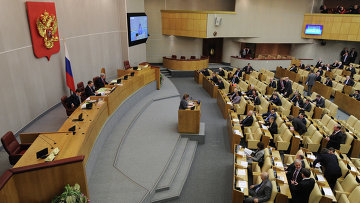 11:50 13/05/2014
MOSCOW, May 13 (RAPSI) – Human rights activists have forwarded a negative review of a bill that would require the mandatory registration of NGOs as foreign agents to State Duma Speaker Sergei Naryshkin, Vedomosti newspaper writes on Tuesday. The bill was submitted by lawmaker Andrei Lugovoi.
They say the proposed amendments contradict several articles of the constitution. In particular, mandatory registration as a foreign agent based on decisions by law enforcement agencies cannot effectively protect the NGOs' rights and legitimate interests. Several prosecutor and other law enforcement agency decisions on NGOs have been reversed by the courts as illegal and unsubstantiated.
Moreover, the bill does not do away with the voluntary registration procedure, which has proven completely ineffective. Over the past year only one NGO has registered as a foreign agent, and it was affiliated with state agencies.
According to the authors of the review, 16 amendments have been attached to the law on NGOs over the past three years. All of them were adopted hastily, without proper consideration or respect for the NGOs' interests. These numerous and inconsistent amendments infringe on the constitutional right to the freedom of association and create problems not only for NGOs but also for law enforcement agencies.
A federal law was passed in November 2012 requiring all NGOs engaged in political activity and receiving foreign funding to register as "foreign agents" or face fines of up to 500,000 rubles (app. $14,200). In February 2013, eleven Russian NGOs, including the Moscow Helsinki Group, lodged a complaint against the law with the European Court of Human Rights (ECHR).