Penalties for unrest during public events increased in Russia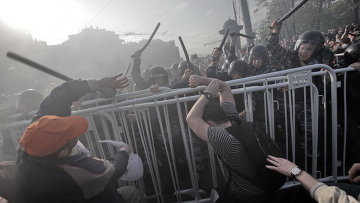 12:53 09/07/2014
MOSCOW, July 9 (RAPSI) – On Wednesday the Federation Council approved a law to increase the penalties for violating the law during demonstrations, marches and pickets.
Repeated violations of approved public demonstration activity will be punishable by up to five years' imprisonment, fines ranging between 600,000 rubles ($17,430) and 1 million rubles ($29,045), or up to 480 hours of compulsory community service. Anyone convicted and given an administrative punishment more than once within a six month period will be considered a repeat offender.
A demonstration organizer or participant who disobeys the police, military personnel or Federal Security Service or Federal Guard Service personnel more than once can be fined 5,000 rubles ($145) or held for up for 30 days. Officials guilty of this offense can be fined 10,000-20,000 rubles ($290-$580) and legal entities 50,000-100,000 rubles ($1,450-$2,900).
If demonstrators block traffic or in any way impede the operation of public infrastructure or communications or prevent free pedestrian movement, or if the number of participants in a demonstration exceeds the permitted number, violators can be fined 30,000 to 50,000 rubles ($870-$1,450), officials 50,000-100,000 rubles ($1,450-$2,900) and legal entities 250,000-500,000 rubles ($7,260-$14,520).
Journalists attending demonstrations must carry a press card or other ID identifying them as journalists, as well as a press pass.