Russian government approves unlimited meetings of convicts with priests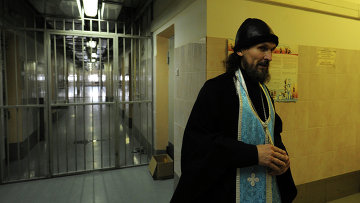 13:53 30/09/2014
MOSCOW, September 30 (RAPSI) - The Russian Government has approved a bill that allows personal meetings between convicts and the clergy, including those without supervision, RIA Novosti reports Tuesday citing the Ministry of Justice.
The bill was developed by the Ministry of Justice as part of the penitentiary system improvement program. The concept includes cooperation with major religious organizations, involving convicts in religious meetings as well as joint humanitarian projects between the traditional faiths.
The Ministry of Justice clarifies that the meetings may be arranged either in the presence of prison guards or one-on-one outside the earshot of third parties if a priest gives written consent. It was specifically noted that in case of one-on-one meetings, video surveillance systems will be used.
The bill also stipulates that the authorized agenciesare responsible for developing cooperation agreements between the Federal Penitentiary Service, its regional branches and religious organizations. This is required to ensure the uniformity of such agreements (there are currently 80).