Russian authorities mull fixed workplace percentages for immigrants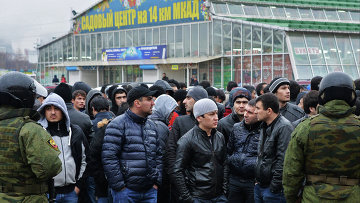 13:11 08/10/2014
MOSCOW, October 8 (RAPSI) – Russian Prosecutor General's Office proposes a bill to institute a federal percentage bar of workplaces that could be taken my immigrant laborers, RIA Novosti reports on Wednesday.
The proposal was made by Deputy Prosecutor General on Wednesday at the session of Legislators Council.
According to Grin, the present system of assigning workplaces to visa-free immigrants is ineffective. Grin considers it unsupportive to state national policy, aimed at creating jobs for Russian citizens.
Deputy Prosecutor General also spoke in favor the recently submitted socio-cultural immigrant adaptation bill.
Almost 17.7 million foreign nationals visited Russia last year. A United Nations study published last year ranked Russia as the world's second-largest host of foreign migrants, with more than 11 million. The Federal Migration Service has estimated the number of illegal migrants at 3 million.