Russia to ban import of auto equipment, metal and heavy engineering products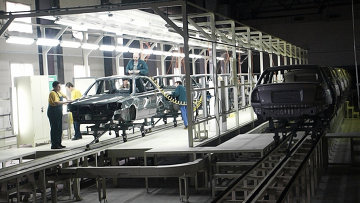 10:48 20/10/2014
MOSCOW, October 20 (RAPSI) – The Russian government considers prohibiting state-owned companies from importing auto equipment, products of metal and heavy engineering industries, Kommersant newspaper reports on Monday, citing sources in the Ministry of Economic Development and the Ministry of Industry and Trade.
A resolution prohibiting state-owned companies from buying foreign products unless there is no Russian-made products was drafted by the Ministry of Industry and Trade, according to the newspaper.
The resolution is expected to become effective by the end of the year, after it is approved by First Deputy Prime Minister Igor Shuvalov and forwarded to the Federal Agency for State Property Management (Rosimushchestvo).
The proposed measure would reportedly affect companies in which state ownership is greater than 50%.
Relations between Russia and the West have worsened over the events in Ukraine.
After the Republic of Crimea split off from Ukraine and voted to join Russia in a referendum, Ukrainian authorities launched a military operation to suppress succession of two other republics in southeastern region. A number of Western countries claimed Ukrainian territorial integrity to be undermined and imposed sanctions on Russian businessmen and state-owned companies. The sanctions were expanded a number of times to include more Russian companies and officials. The most recent sanctions against Russia were introduced on September 12.
Russia first responded in August banning imports of agricultural products from countries that imposed sanctions on the country for one year.
Presidential aide Andrei Belousov told RIA Novosti earlier that Russia could limit the import of cars and light industry goods.
However, Industry and Trade Minister Denis Manturov said last week that Russia didn't consider introducing countermeasures in manufacturing industry to Western sanctions.