Jewelry worth over $325 to be sold with ID check in Russia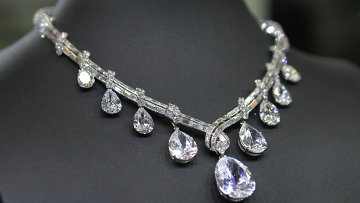 10:47 11/11/2014
MOSCOW, November 11 (RAPSI) – The State Duma will consider a bill under which expensive jewelry could only be sold upon presentation of a passport, Interfax reported on Tuesday.
The existing law on money laundering and terrorism financing would be amended to include a clause stipulating that only jewelry worth less than 15,000 rubles (currently about $325) can be sold without presenting ID.
Individuals who use digital wallets, which includes information about the user such as shipping address, billing address, payment methods (including credit card numbers, expiry dates, and security numbers), will be able to buy up to 100,000 rubles' ($2,180) worth of jewelry without providing an ID.
The author of the bill, Valery Yazev (United Russia), writes in an explanatory note that jewelry stores are virtually the only retail element in an anti-money laundering scheme. He writes that people usually see these companies as ordinary stores where they don't need to present a passport.
Yazev writes that similar requirements are applied to money transfers by individuals and cites European experience. The ceiling is 3,000 euros for residents and 15,000 for non-residents in France; 1,000 euros in Portugal; 2,500 euros for residents and 15,000 euros for non-residents in Spain; and 3,000 euros in Belgium.