State Duma adopts party financing control bill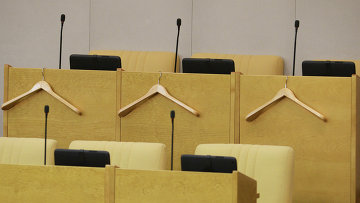 17:35 14/11/2014
MOSCOW, November 14 (RAPSI) – The State Duma has adopted in its third and final reading the bill increasing fines for illegal contributions to political parties and bribing voters, RIA Novosti reports on Friday.
Administrative fines for bribing voters, referendum voters or for giving any gift to influence a voter in violation of the law on elections and referendums will be ten times more costly. The fine for individuals will be between 20,000 and 25,000 rubles ($435 and $544 current exchange rate). Today the fine is between 2,000 and 2,500 rubles ($54).
The illegal funding of a candidate's election campaign, electoral union, or campaign support group could result in fines of 10,000 to 15,000 rubles ($326) for individuals (currently 1,000 to 1,500), 20,000 to 30,000 rubles ($653) for officials (currently 2,000 to 3,000); and between 200,000 and 300,000 rubles ($6,500) for companies (currently 20,000 to 30,000).
The amendments stipulate a three-year limit on administrative liability for violating the law on political parties.
The bill was supplemented with a regulation that does not allow political parties to accept support from foreign countries, foreign companies, foreign citizens, stateless persons, international organizations, international public movements, or non-profit organizations with foreign agent status.
The list also includes Russian non-profit organizations that received funds or other property from foreign countries or the above stated institutions for a year preceding the date the Russian NGO contributed to an election candidate or campaign.