Migrant labor permit could cost about $100 a month in Russia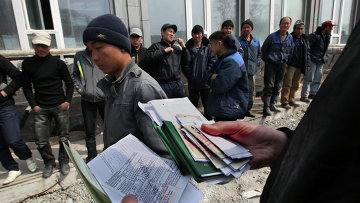 13:10 18/11/2014
MOSCOW, November 18 (RAPSI) – A migrant labor license/permit in Moscow could cost about 5,000 rubles (approximately $100) a month, but the decision has not been approved yet, RIA Novosti reported on Tuesday, citing Maxim Reshetnikov, head of the Economic Policy and Development Department in the Moscow city government.
On November 14, the State Duma adopted a bill on replacing migrant labor quotas with permits in the third and final reading. Migrant labor permits were introduced in 2010 to allow immigrants from visa-free countries to work in Russia irrespective of the migrant labor quotas, for example in housing repair or cleaning businesses.
These permits have proved to be effective, and so a law was drafted to terminate migrant labor quotas and instead allow permit-holding migrant workers to work for companies and sole operators. The regional authorities will be able to determine the cost of these permits. The current federal permit fee is 1,200 rubles (approximately $25).
"Initially, we planned to set the price at 5,000 rubles (about $100) a month in Moscow. Now we are in talks with the Moscow Region authorities to approve a common price so as to rule out competition," Maxim Reshetnikov said.
He added that the current permit fee, 1,200 rubles a month, is too low considering the salaries paid in Moscow. "Besides, it [the permit fee] will also be used to regulate the labor market. The current economic situation is not good, and we might have to increase the cost of the permit to shift a certain amount of jobs to Russian citizens," the Moscow official said.