Bill on foreign athletes reaches Russian parliament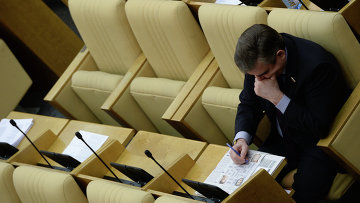 12:03 17/02/2015
MOSCOW, February 17 (RAPSI) - A bill establishing a procedure for hiring foreign athletes, coaches and other specialists in winter and summer team sports has been submitted to the State Duma, the Russian parliament's lower house, according to a press release published on the government's website on Tuesday.
The bill was introduced by the Ministry of Sports following the meeting of the Presidential Council for Development of Physical Culture and Sport last March.
The Government approved the bill on February 12.
The bill sets requirements that restrict participation of athletes playing for Russian national teams in international sports competitions and national team sport competitions.
The restriction regulates the total number of foreign athletes who can simultaneously take part in competitions or be proposed by a sports organization for participation in a competition. The bill also sets criteria regarding qualification and age, period of permanent residence in Russia, term of training in Russia, performance and results when working for Russian organizations.
The bill also grants the Ministry of Sports with the authority to finalize the restrictions.
The bill entitles sports organizations operating in Russia, and national sports federations to hire highly skilled foreign experts for team sports. The list of positions is also to be approved by the Sports Ministry.