Russian lawmaker suggests cutting political party funding by $50 mln a year - report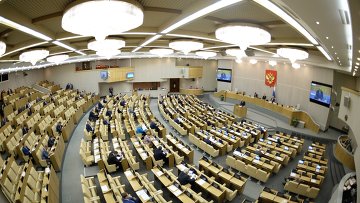 10:22 20/03/2015
MOSCOW, March 20 (RAPSI) - Igor Zotov, a State Duma member from A Just Russia, chairman of the Russian Party of Pensioners for Justice, has drafted a bill that would cut funding by almost half to save around 3 billion rubles annually ($50 million) in the federal budget, Izvestia reports on Friday.
According to the law, the parties receive funding in annual one-time payments. In 2012, 2013 and 2014, the rate was 50 rubles ($0.83) per vote. Starting January 1, 2015, the rate was increased to 110 rubles ($1.83). Izvestia says that the MP has proposed cutting party funding from 110 to 60 rubles ($1) per vote.
If approved, the initiative would save over 3 billion rubles in federal budget funding a year. The bill will be submitted to the State Duma next week.
The newspaper cites Zotov as saying that during the crisis the political parties that "have genuine trust of people" could do with less financial support that "even curbed, would still amount to hundreds of million rubles." Zotov notes that the free-up money "should be spent on social obligations."
Izvestia estimates that United Russia receives almost 3.5 billion rubles ($58 mln) a year, the Communist Party 1.4 billion rubles ($23 mln), A Just Russia 956 million rubles ($16 mln), the Liberal Democratic Party 843 million rubles ($14 mln) and Yabloko 248 million rubles ($4.1 mln).