Russian upper house proposes sanctions against states that 'glorify Nazism'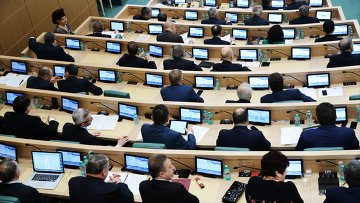 12:44 20/05/2015
MOSCOW, May 20 (RAPSI) - The Federation Council, Russia's upper house of parliament, urged the Foreign Ministry to introduce sanctions against countries that justify Nazi criminals and their accomplices, RIA Novosti reported on Wednesday.
The recommendations approved earlier as a result of parliamentary hearings on the political and legal aspects of preventing revisions of Nazism suggest that it is necessary to impose both individual sanctions and sanctions in trade and economy against such states and individuals.
It is argued that attempts to put blame on Russia for starting WWII poses a direct threat to Russia's national security, collaboration in Europe and international stability.
There are attempts to equalize Nazism with other totalitarian regimes through laws and regulations. Specifically, in mid-April, the Ukrainian parliament passed a law to ban Communist and Nazi totalitarian regimes and their symbols.
The senators believe that it is a conscious policy to selectively use historical facts and fabricate events in order to blur the outcome of WWII and replace the post-war system with a unipolar world model.
The senators recommended paying careful attention to the Soviet Union's role in defeating Nazi Germany and in the victory over Nazism, that is to develop programs to prevent anti-Russian, Russiphobic and anti-Soviet propaganda.
A proposal was recommended for a resolution on preventing the glorification of Nazism and fighting Neo-Nazism at the UN General Assembly session.