Russian lawmaker suggests labeling 'Nazi-linked products' - report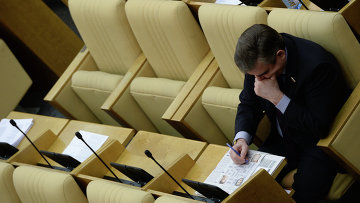 10:32 22/06/2015
MOSCOW, June 22 (RAPSI) – Alexei Zhuravlyov, a lawmaker in Russia's lower house of parliament, the State Duma, suggests labeling products of companies that cooperated with Nazi Germany during WWII, Izvestia newspaper reported on Monday.
The proposal was designed to prevent the distortion of facts and to properly inform young people about historical facts, according to Zhuravlyov.
The bill would add an article to the federal law on advertising that would cover the advertising of products made by foreign companies that had business relations with the National Socialist German Workers' Party (Nazi party) or the National Fascist Party of Italy. Under this article, the advertising of these products would include a reference to the producer's relations with the Nazis and critical remarks about the criminal nature of these parties, Izvestia writes.
For example, radio ads of these products would include at least three seconds of information about the company's past. TV commercials would have at least five seconds of this kind of information and at least 7 percent of the footage. "Other types of advertising would have at least 10 percent of this information," the bill says.
Zhuravlyov cites Siemens as a company that could threaten Russia's national security. He says that Siemens has cooperated with the Federal Intelligence Service of Germany (BND) for years. The MP also claims that Ikea is making a fortune from levying illegal duties on producers. In 2010, Russia's Interior Ministry initiated proceedings against two top managers of Ikea's Russian office on suspicion of soliciting a 6.5 million ruble (about $130,000) bribe from Russian producers.
According to the media, many US and European companies cooperated with the Nazi government, including Chase Bank (renamed J.P. Morgan Chase), Ford, Bertelsmann A.G. (its subsidiaries include Random House, Bantam Books and Doubleday), Allianz, Nestle, General Electric, and Krupp.