Convicted bribe-takers may lose right to parole and amnesty - report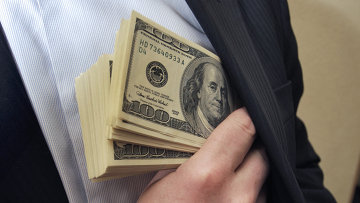 11:16 25/08/2015
MOSCOW, August 25 (RAPSI) - Oleg Nilov, Deputy Chairman of A Just Russia parliamentary party, has drafted a bill that would deprive those convicted of accepting a bribe of the right to early release on parole or amnesty, Izvestia reported Tuesday.
On Tuesday, a court in the Vladimir Regionhears a parole petition from former Defense Ministry employee, Yevgeniya Vasilyeva who was sentenced to five years for major embezzlement. This bill is partially the result of the Oboronservis case in which Vasilyeva was convicted.
The bill specifies categories of convicts that would not be able to apply for parole or amnesty. According to Izvestia, this includes criminals involved in major corruption, the sexual abuse of minors and severe crimes against public security.
Earlier this year, Nilov submitted a bill to the State Duma that suggested qualifying corruption as treason. However, the legislature did not support the bill. Also in February, the State Duma received a bill that would deprive criminals convicted of sex crimes against minors of the right to parole.
The Oboronservis case was opened in 2012 when a major embezzlement scheme was uncovered involving state property owned by the Defense Ministry. Vasilyeva was a key defendant in the case. The defense minister at the time, Anatoly Serdyukov, lost his post as a result of the case.
On August 21, the Moscow City Court upheld the verdict of the Presnensky District Court of Moscow that sentenced Vasilyeva to five years for embezzling over 800 million rubles ($11.4 mln).
To increase her chances for parole, Vasilyeva's father paid the claims for his daughter and the other co-defendants that were worth around 217 million rubles ($3.1 mln), the newspaper writes.