Russian Constitutional Court may be authorized to overturn international courts' decisions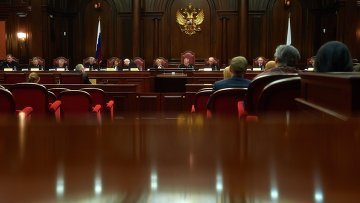 10:52 18/11/2015
MOSCOW, November 18 (RAPSI) – A group of MPs drafted a bill that extends the power of Russia's Constitutional Court and gives it the right to find it impossible to execute decisions of international courts on the territory of Russia if they break the supremacy of the Constitution, RIA Novosti reported on Wednesday.
"Today, this document will be officially submitted to the State Duma. It postulates that the Constitutional Court may decide whether to execute or judgments of the European Court of Human Rights (ECHR) and other courts or not. If the judgement is undermining the sovereignty of the country, Constitutional Court would solve the situation. This decision would take effect immediately, it may not be appealed"- one of the bill creators, Vasily Likhachev, told RIA Novosti.
According to the bill, Russian President, Government and Ministry of Justice would be granted a right to ask the Constitutional Court to review decisions of international courts.