U.S. Supreme Court to hear case on controversial immigration move by Obama - report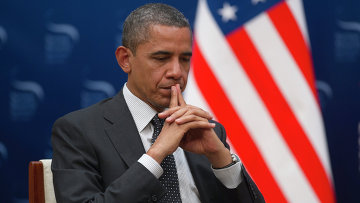 10:56 18/04/2016
MOSCOW, April 18 (RAPSI) – President Obama's controversial unilateral action on U.S. immigration will be reviewed by the country's Supreme Court on Monday, Reuters has reported.
According to Reuters, in 2014 Obama used his presidential powers to take action granting immunity from deportation to several million illegal immigrants in the country. This move was conducted after the predominantly Republican House of Representatives blocked a bill on immigration called Deferred Action for Parents of Americans and Lawful Permanent Residents (DAPA).
This bill if passed would give around 4 million illegal immigrants right to stay in U.S. if they have lived in the country at least since 2010, have no criminal record and have U.S. citizen children or U.S. lawful permanent residents, Reuters has reported.
Soon after Obama took the action, it was blocked by the governor of Texas and governors of other Republican-controlled states. Consequential legal dispute is to be resolved on Monday, Reuters has reported.
According to Reuters, this case is likely to divide the high court which is evenly split between liberal and conservative justices. In case of split the 2015 New Orleans-based 5th U.S. Circuit Court of Appeals's ruling against Obama's action is going to stay in place.