Bulgarian parliament adopts bill on damage payment to Russian company for abandoned NPP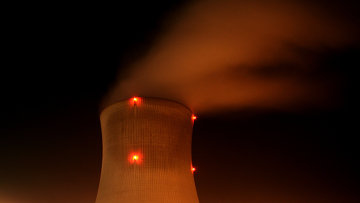 16:10 21/09/2016
MOSCOW, September 21 (RAPSI) – The Bulgarian parliament has passed in the first reading a bill on providing financial support for the National Electric Company (NEK) to pay the damages to Russian engineering company Atomstroyexport for the abandoned Belene nuclear power plant project, the parliament's official website announced on Wednesday.
The bill approved on Tuesday by the Bulgarian government stipulates that NEK will receive the sum required for repayment of obligation to Atomstroyexport from the state budget.
Prime Minister of Bulgaria Boyko Borissov announced earlier that around € 650 million would be transferred to the Russian company. The money will be granted after the European Commission's approval, according to the local media reports.
A procedure for selection of a contractor for construction of Belene NPP was launched in 2005. It resulted in Atomstroyexport winning the bid for the contract. An agreement on the NPP construction was signed in November 2006. After the project had been approved by the European Commission as meeting technical requirements, the contract for the design, construction, and installation of Belene NPP was signed. Nevertheless, Bulgarian authorities officially terminated the project in March 2012.
Atomstroyexport initiated proceedings in the Paris-based International Court of Arbitration of the International Chamber of Commerce in July 2011 requesting a €58,000,000 payment for the works carried out in the framework of the project implementation. In September 2012, the Russian party informed that the compensation it demanded from NEK was raised to €1 billion.
In July 2016, NEK was ordered to compensate the Russian company €620 million. Moreover, the court ruled that a penalty of €167,000 would be charged daily until the full amount of damage is paid.
Atomstroyexport is a leading Russian engineering company and is a subsidiary of the Rosatom state corporation. It is involved in the construction of nuclear power facilities abroad. Atomstroyexport is currently building five nuclear power generating units abroad.