Reporters of U.S. 'foreign agent' media outlets banned from Russia's Duma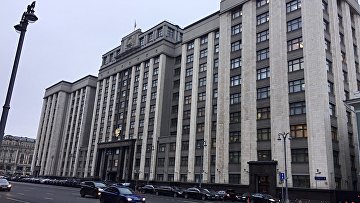 11:51 06/12/2017
MOSCOW, December 6 (RAPSI) – Russia's State Duma has barred access to its premises for employees of US media outlets designated as "foreign agents", a decision adopted by the body reads on Wednesday.
According to the document, the lower house of Russia's parliament calls on all regional legislatures to follow in its tracks and adopt similar decisions.
The State Duma deems any attack on the fundamental civil rights and freedoms, among them the freedom to receive and impart information and ideas, unacceptable, and the lawmakers reserve the right to adopt "symmetrical measures" with respect to the decision to bar access to the U.S. Congress for a number of Russian journalists, the document reads.
This week, Russia's Ministry of Justice designated nine media outlets, including Voice of America and Radio Free Europe/Radio Liberty (RFE/RL) as "foreign agents"; other media included in the list are Current Time TV, Tatar-Bashkir service of RFE/RL and several projects of Radio Liberty, among them Factograf, Sibir.Realii, IdeLRealia, Kavkaz.Realii, and Krym.Realii.
On November 25, Russian President Vladimir Putin signed a bill on "foreign agent" label for foreign media into law. On December 4, he ordered the Ministry of Justice to maintain registry of foreign media designated as "foreign agents".
The law is also to establish regulations such as what markers are going to be used for this kind of media or whether there is a need for a special registry in this case.
In November, the U.S. Ministry of Justice ordered Russia Today TV channel to register as a "foreign agent." The channel implemented the requirement on November 10. Head of RT Margarita Simonyan said that it was a forced choice between registration and a criminal case. The President called this situation an attack on freedom of speech and members of the State Duma initiated preparation of symmetrical response measures.