Putin signs bill protecting children's right to alimony into law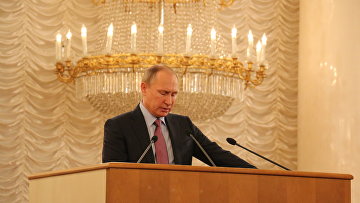 18:24 07/03/2018
MOSCOW, March 7 (RAPSI) - Russian President Vladimir Putin has signed a bill that would protect children's right to alimony and state social guarantees into law. The document to the effect was published on the official website of legal information on Wednesday.
The draft law was passed by the State Duma on February 22. The upper house of parliament, the Federation Council, approved the initiative on February 28.
The law is aimed to eliminate problems concerning court-ordered recovery of alimony from debtors whose location is unknown.
Under the legislation, judges would request available information about a debtor from court bailiffs after receipt of an application demanding to declare the person in debt missing.
Court bailiffs would be obliged to inform persons seeking the exaction and explain their right to ask a court to declare a debtor missing, when his or her search came to nothing, and location was not established within a year after advanced information on debtor was received.
Declaration of indebted individual's absence constitutes grounds for award of survivor pension.
As of December 31, 2016, over 1,000 alimony debtors are being searched for more than 4 years, according to the government.